Invented by French surgeon Charam Khosrovani, Colovac is a flexible endoluminal bypass sheath that prevents contamination of the colorectal anastomotic site following open or laparoscopic colorectal surgery. Minimally invasive and fully reversible, Colovac is anchored by a vacuum seal above the anastomosis and can be removed during a routine endoscopic procedure.
Clinical trials support Colovac's effectiveness in improving and expediting patients' recoveries from surgery. This is an especially important benefit for surgeons, clinicians, payors and postoperative care professionals, and for the community of colorectal patients worldwide.
The Colovac device is an investigational device, not currently available for sale.
Clinical benefits
Colovac is designed to address the #1 complication of colorectal surgery, which is anastomotic leakage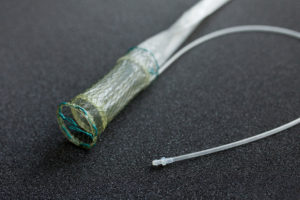 Every year, two million colorectal surgical resections are performed worldwide. In the healing phase after these surgeries, anastomotic leakage is a serious potential complication. To minimize the clinical impact of an anastomotic leak, for most low rectal resections a temporary diverting ostomy is created. Temporary diverting ostomy can lead to post-surgical complications, such as dehydration, stoma-site hernia, bowel obstruction, and skin irritation.  Temporary diverting ostomy is known to negatively impact patient satisfaction and quality of life, and a significant number of temporary diverting ostomies are never reversed, thus creating a permanent burden for patients.
Following extensive preclinical testing, Colovac underwent first-in-human clinical trials at the IHU/CHRU in Strasbourg, University Hospital Antwerp and Hôpital Saint-Antoine in Paris. During this pilot study, patients received a Colovac implant for two weeks, in place of a diverting ostomy. In all cases, appropriate protection against direct contact with feces during the implant period was accomplished.
The placement and retrieval procedures have also proven to be safe and effective.
67% of participating patients successfully avoided diverting ostomies.
Results of the trial show that the device can improve the quality of life of colorectal surgery patients, who can return to their normal activity shortly after treatment.
In providing a less-invasive alternative to diverting ostomy, Colovac fulfills SafeHeal's promise of improving clinical outcomes and quality of life for colorectal patients.
Colovac will provide a local, temporary, less invasive protection of the anastomosis during the healing process:
Timing
Colovac is designed to provide protection of
the anastomosis during the critical initial 10-day anastomotic healing period.
No ostomy
Colovac is designed to avoid the need for a diverting ostomy for the majority of patients who will not experience anastomotic complications.
Possible reversal
Colovac is designed to allow for safe conversion to standard of care diverting ostomy for patients requiring extended anastomotic protection.
How it works
Colovac provides protection of the anastomosis during the critical 10-day postoperative healing stage, giving the majority of patients the benefit of avoiding a diverting ostomy.
Colovac is comprised of a flexible bypass sheath that is anchored to the colon using a vacuum stent placed proximal to the anastomosis. The device is a minimally invasive, fully reversible internal bypass sheath that isolates the anastomosis from any contact with the fecal content during patients' recovery, minimizing the sequelae of an anastomotic leakage (i.e. peritonitis).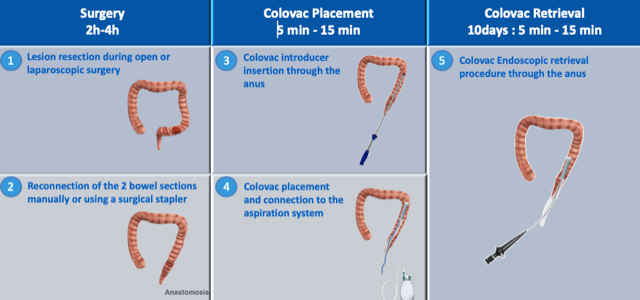 Colovac Protection in 3 Steps
Surgery is performed as standard of care: open, laparoscopic or robotic approach.
Colovac Placement: 5-15 min.
- Introducer insertion through the anus
- Placement of the Colovac device proximal to the anastomosis
- Connection to the vacuum system, enabling the vacuum seal and anchoring for 10 days after surgery
10 days after surgery
Colovac Retrieval: 5-15 min. Endoscopic retrieval procedure through the anus
Scientific Advisory Board

Dr. Patricia Sylla
Dr. Sylla has been a leader in minimally invasive approaches to the surgical treatment of colon and rectal cancer. Dr. Sylla pioneered taTME (transanal total mesorectal excision), a transanal endoscopic approach to perform rectal cancer surgery, and performed the first case in a human in 2009. She has sine been actively engaged in training surgeons in this technique and organized clinical trials to evaluate the long-term outcomes of this approach.
Dr. Patricia Sylla
MD, The Mount Sinai Hospital, NY

Pr. Willem Bemelman
In 2006 he was appointed as a Professor in Surgery. His field of interest in patient care and research is the (minimal invasive) treatment of complex IBD, rectal cancer and complication surgery. Bemelman is a EBSQ certified colorectal surgeon (Bologna 2005), secretary of the European Crohn and Colitis organization and president elect of the European Society of Coloproctology. He guided more than 30 PhD students, has more than 460 peer reviewed papers and a H index of 57. He is currently working in the Amsterdam University Medical Center location Meibergdreef with his colorectal co-workers Roel Hompes, Pieter Tanis and Christianne Buskens.

Pr. Jérémie Lefevre
Jérémie Lefevre is a digestive surgeon in the Saint-Antoine Hospital in Paris, one of the top academic departments of surgery in France. He is Professor of General surgery since 2015 at the Sorbonne University with a specialization in colorectal surgery. After one year as Gold Medal of Surgery of Paris, he completed his medical degree in 2008. He spent one year as Fellow in Oxford before his PhD in Physiology at the Pierre and Marie Curie University in 2012. His main research areas are colorectal cancers, especially the familial syndromes, and inflam¬matory bowel diseases.
We are proud of our testimonials and comments we received from most valuable medical professionals.